On 2 December 2021, the United Arab Emirates celebrates the fiftieth anniversary since the formation of the country that united seven independent Emirates.
To fully understand how and why this occurred, it is necessary to look at the reasons behind the British withdrawal from the Arabian Gulf and the momentous steps taken by Sheikh Zayed Bin Sultan Al Nahyan, the Ruler of Abu Dhabi, Sheikh Rashid Bin Saeed Al Maktoum, the Ruler of Dubai, and the Rulers of Sharjah, Ajman, Umm Al Quwain, Ras Al Khaimah and Fujairah.
This exhibition will cover the period from 1966 to the point at which there was an official announcement on 18 July 1971 that the United Arab Emirates would come into existence.
Another complimentary AGDA exhibition will cover the period from 18 July 1971 until after the Union was formed on 2 December 1971 and showcase the history of events at that time.
Author: UAE National Library and Archives
1966 to January 1968
Following the signing of the General Maritime Treaty of 1820, the Emirates on the Trucial Coast (as it was then called) had enjoyed the protection of the United Kingdom. However, following a worsening recession in the UK in 1966, there was talk in the British Parliament about the cost of maintaining their "East of Aden" military bases. This attitude was further enforced in a February 1967 UK Government White Paper.
On 8/9 January 1968, the British Minister of State for Foreign Affairs visited the Gulf Rulers to warn them of the Government's impending decision to withdraw its forces from the Gulf in 1971. This news was leaked by a British newspaper, the Daily Express, on 9 January 1968.
Following the potentially calamitous news, Sheikh Zayed Bin Sultan Al Nahyan telephoned the Rulers of the other six Emirates and the Rulers of Bahrain and Qatar on 10 January 1968 to discuss a possible way forward. On the same day, Sheikh Zayed met with Sheikh Rashid Bin Saeed Al Maktoum, the Ruler of Dubai, Abu Dhabi's closest northern neighbour.
The story of the lead up to the announcement of the United Arab Emirates, the subject of this exhibition, in documents and photographs begins with the formal announcement of the withdrawal by the British Prime Minister on 16 January 1968.
16 January 1968
British Prime Minister announces H.M.G.'s decision to withdraw all British forces from the Gulf by the end of 1971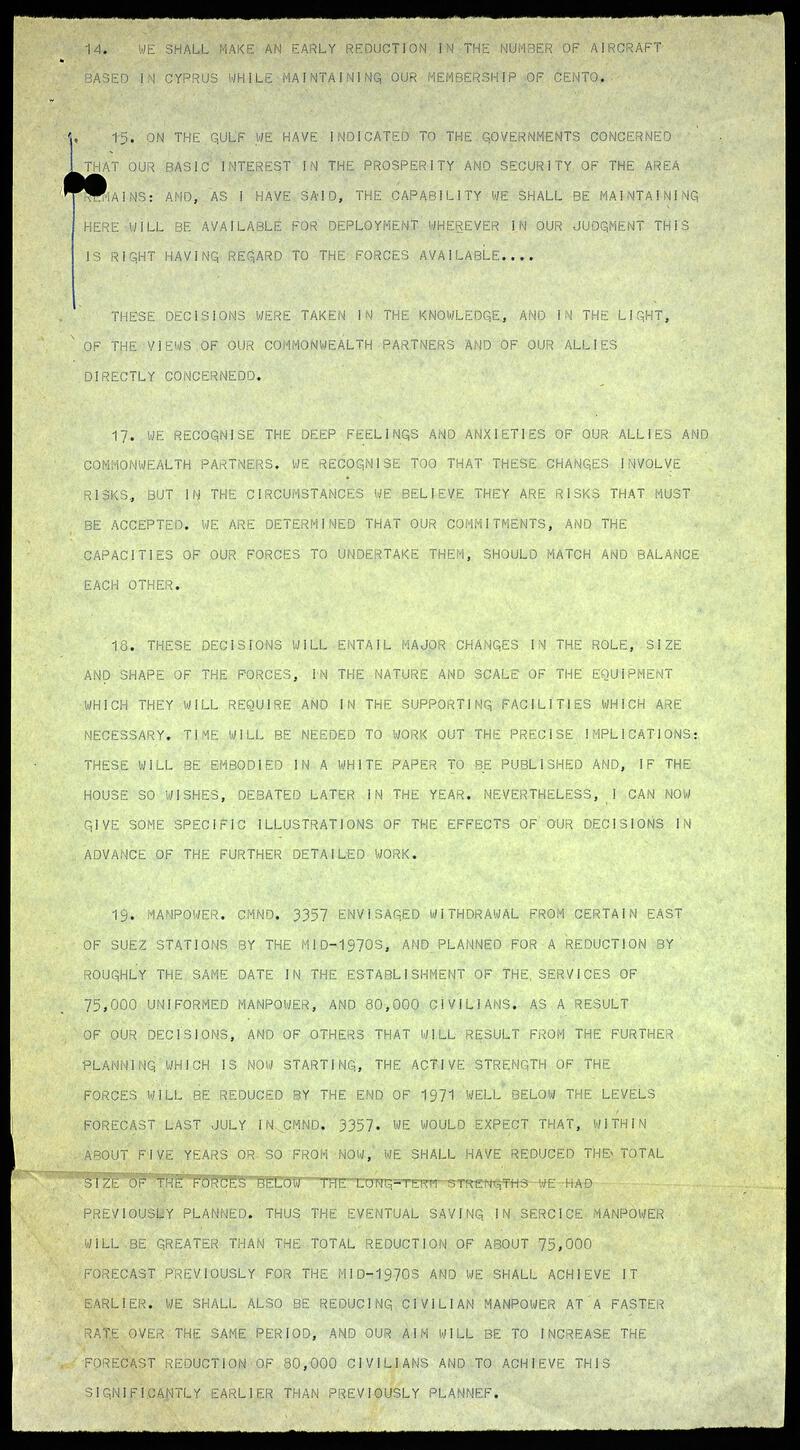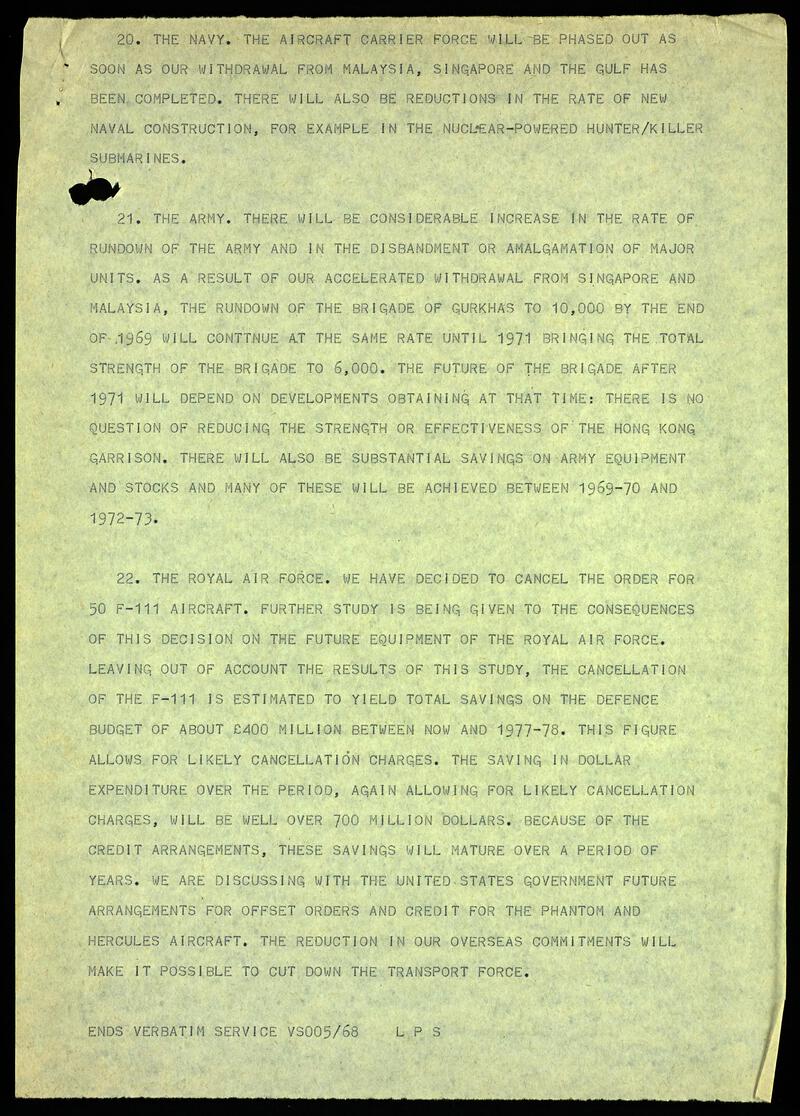 22 January 1968
Text of the joint communiqué issued by Sheikh Zayed Bin Sultan Al Nahyan and Sheikh Rashid Bin Saeed Al Maktoum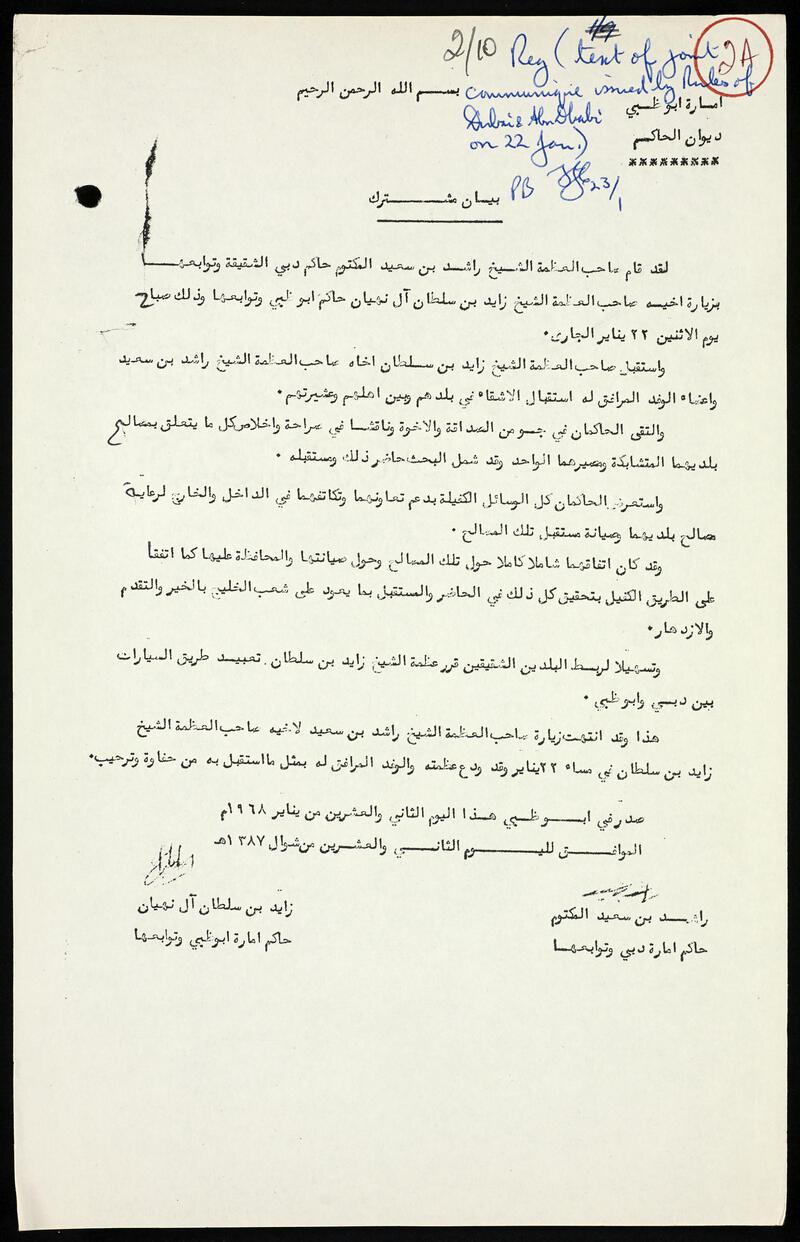 Text of the joint communiqué issued in Abu Dhabi by Sheikh Zayed Bin Sultan Al Nahyan Ruler of Abu Dhabi, and Sheikh Rashid Bin Saeed Al Maktoum Ruler of Dubai, 22 January 1968. © Images reproduced by permission of The National Archives of the UK
18 February 1968
Sheikh Zayed Bin Sultan Al Nahyan, Ruler of Abu Dhabi, and Sheikh Rashid Bin Saeed Al Maktoum, the Ruler of Dubai, met again at Seih Al Sedira, Al Smeih, near Ghantoot on the border between Abu Dhabi and Dubai. The meeting resulted in a joint communiqué being issued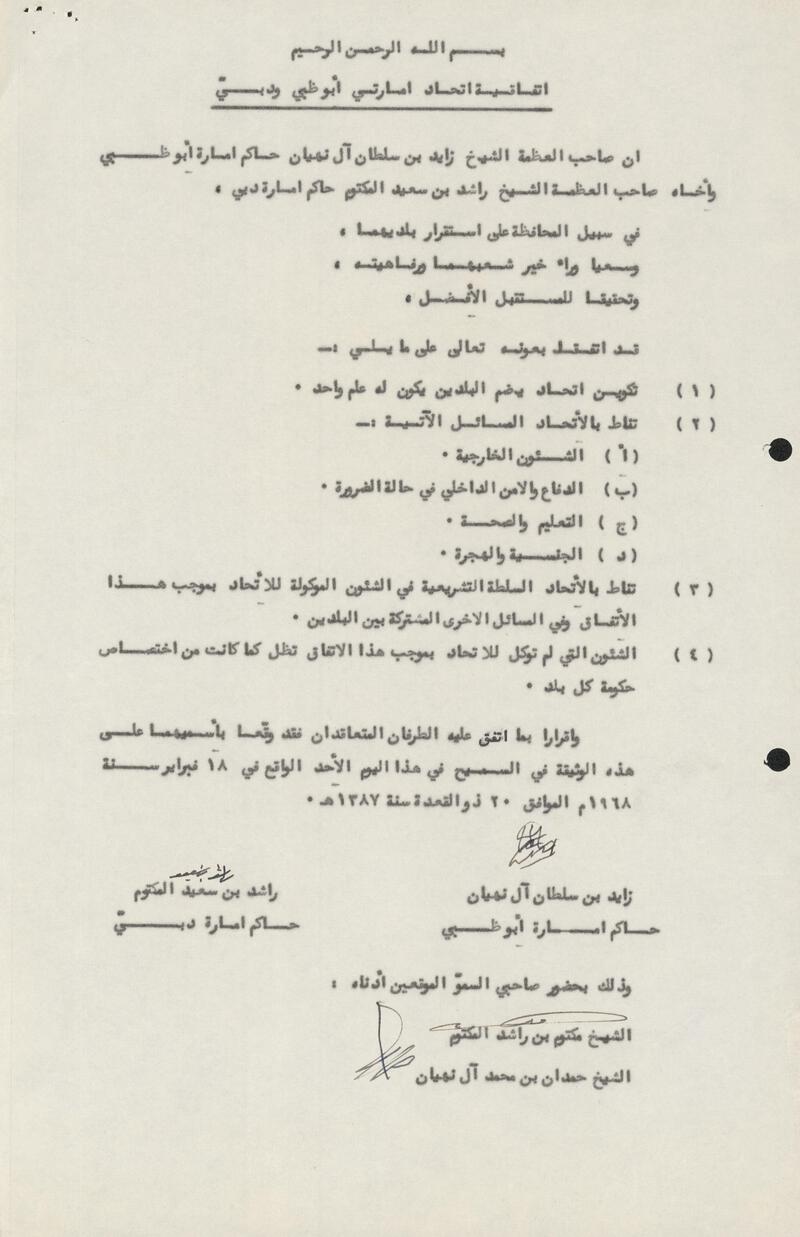 25-27 February 1968
Meeting of Rulers of the Trucial States, Bahrain and Qatar in Dubai, at which agreement to form Union of Arab Emirates is concluded and announced
6-7 July 1968
Union of Arab Emirates Supreme Council meeting in Abu Dhabi
8 September 1968 - 25 October 1969
Documents relating to the various meetings about the Union
13 January 1969
Members of the first Flag, Anthem and Emblem Committee of the Union of Arab Emirates named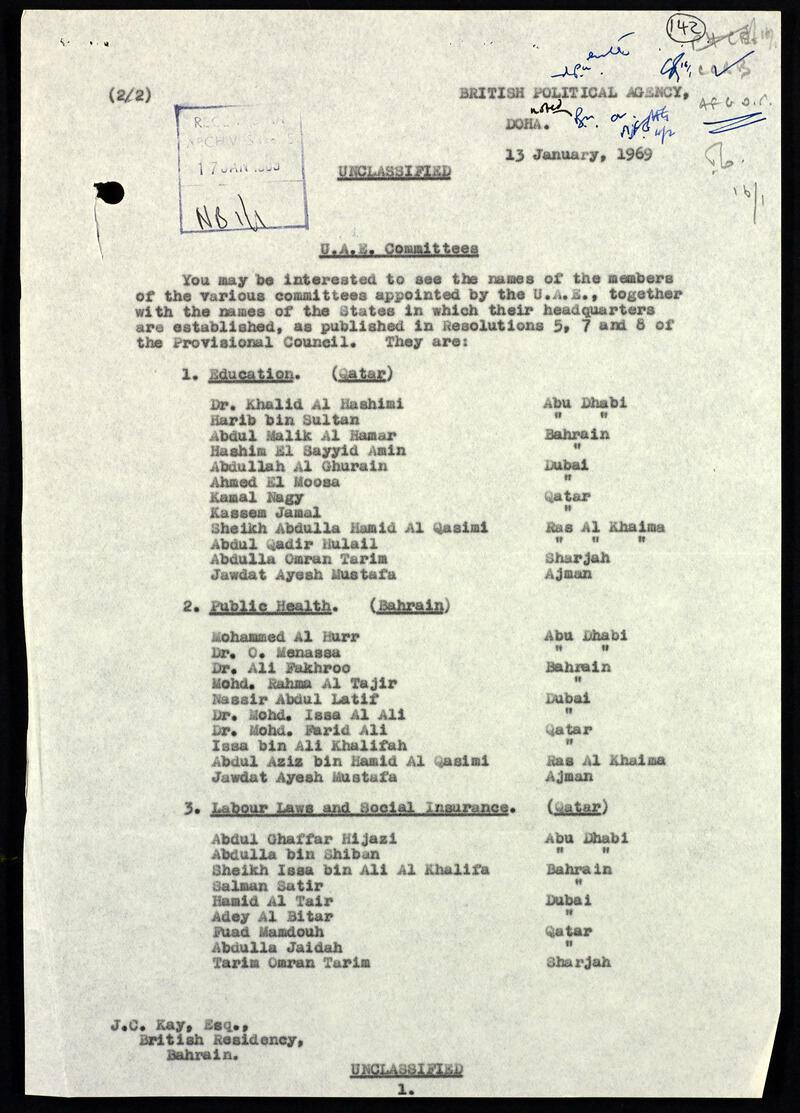 1-2 April 1969
UAE Provisional Council meets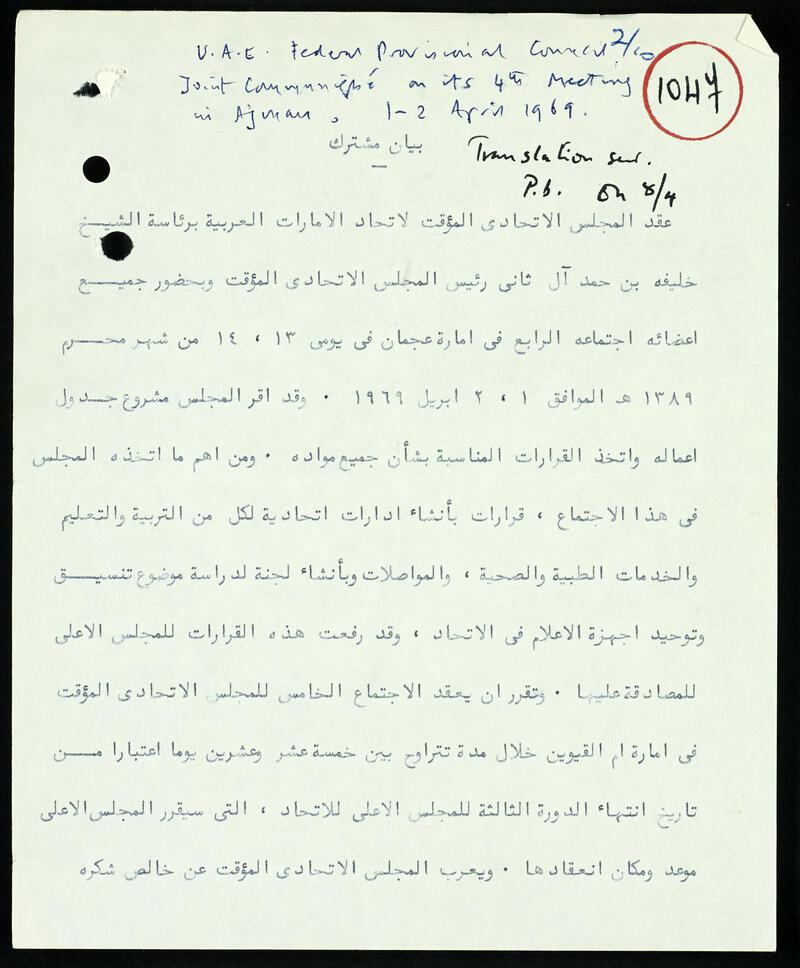 10-14 May 1969
the Third Session of the Supreme Council of the Union of Arab Emirates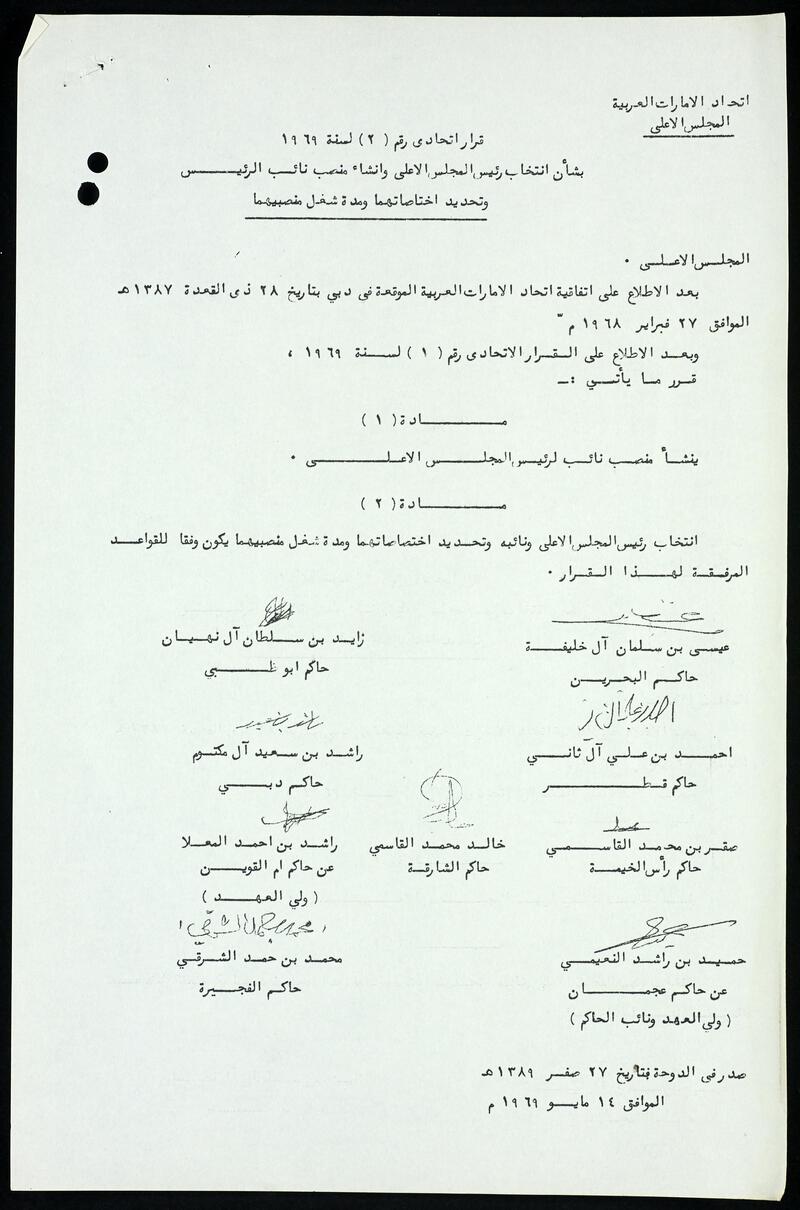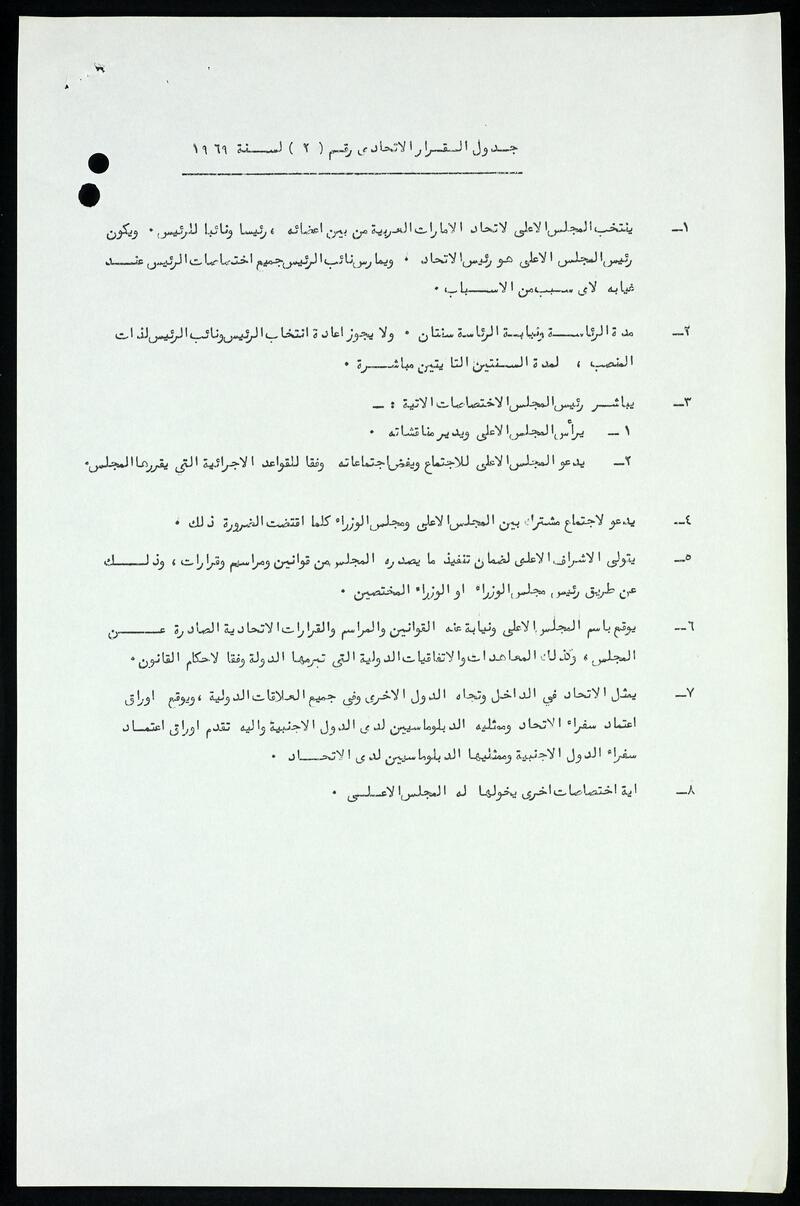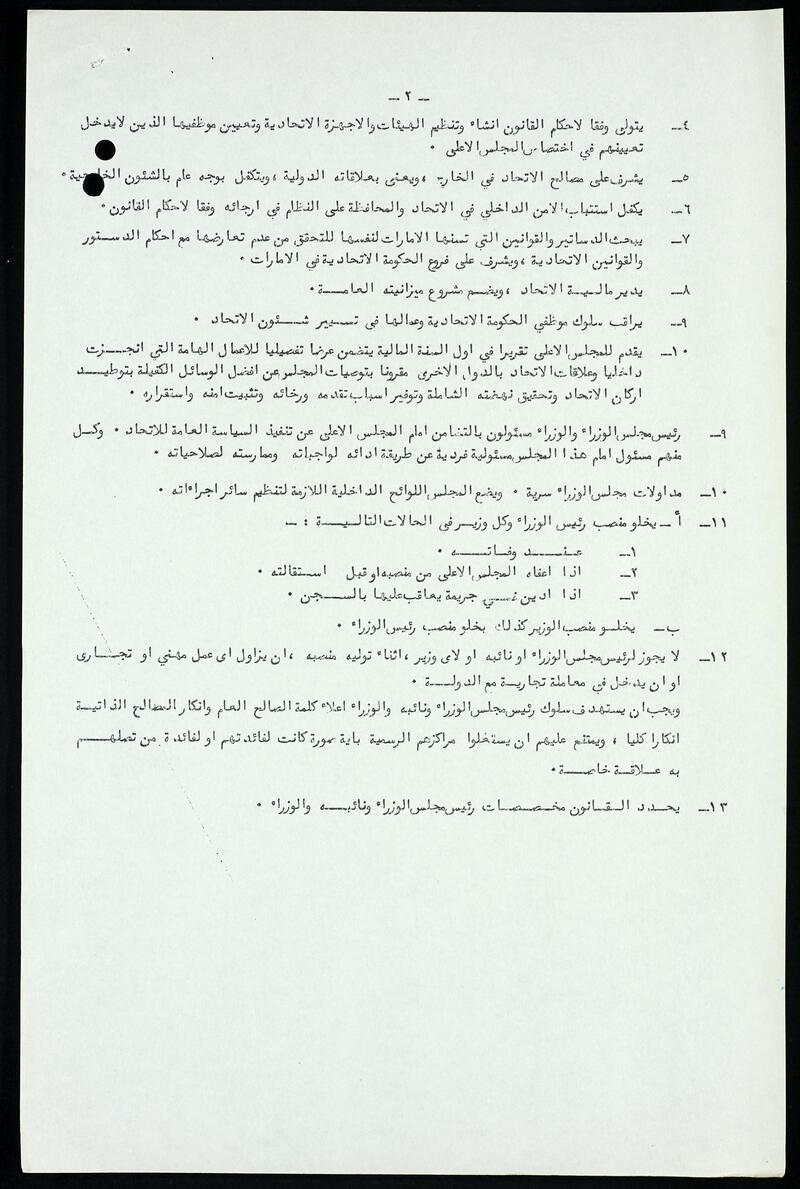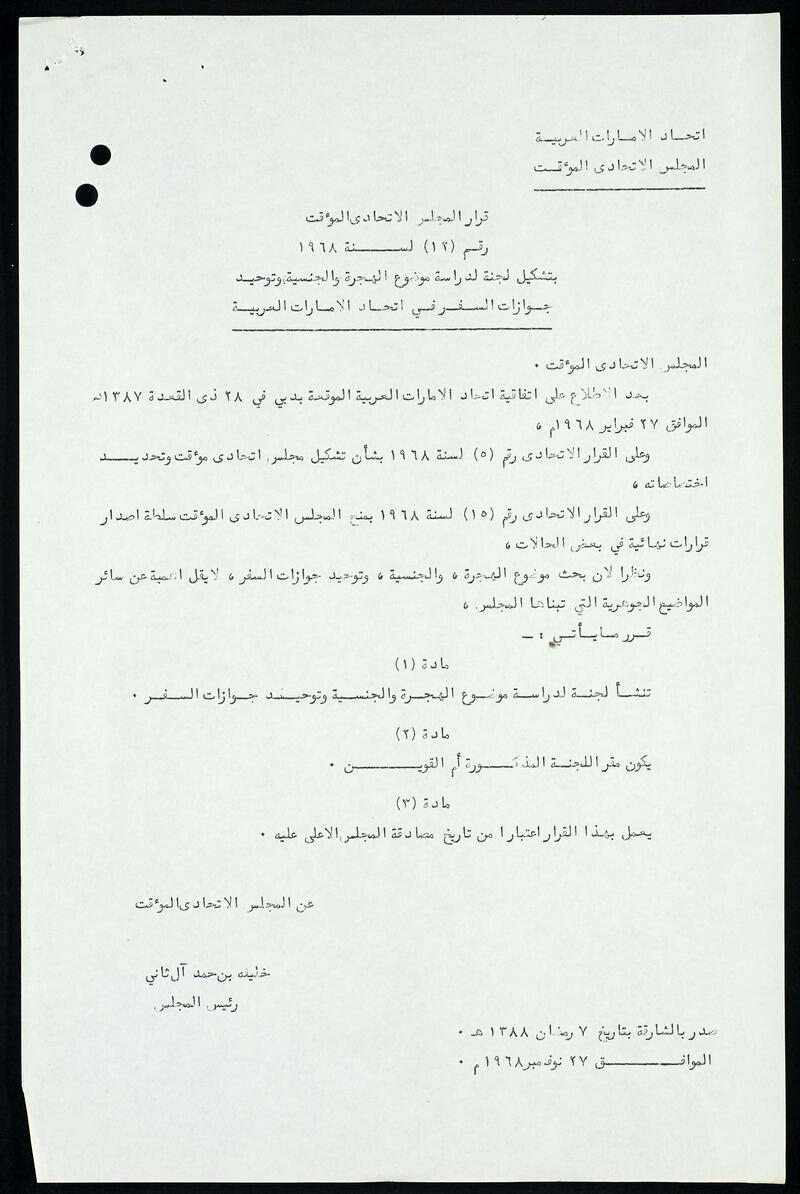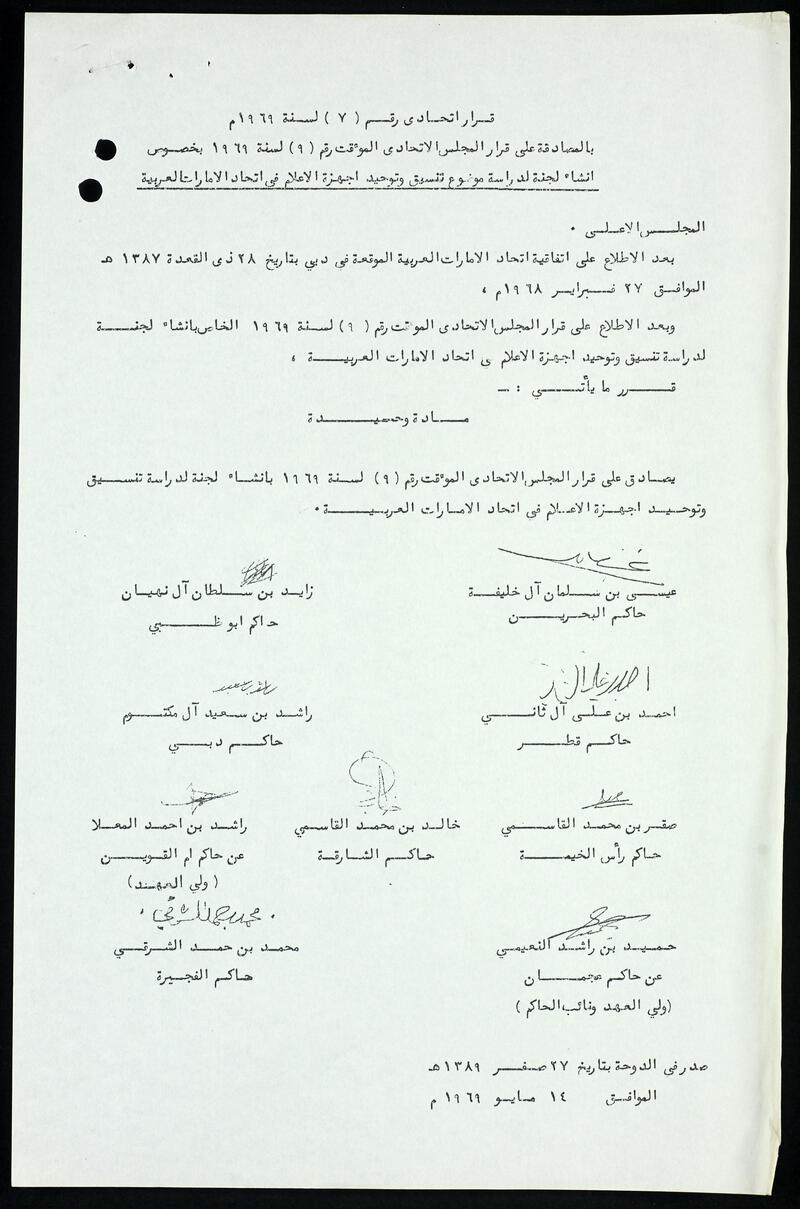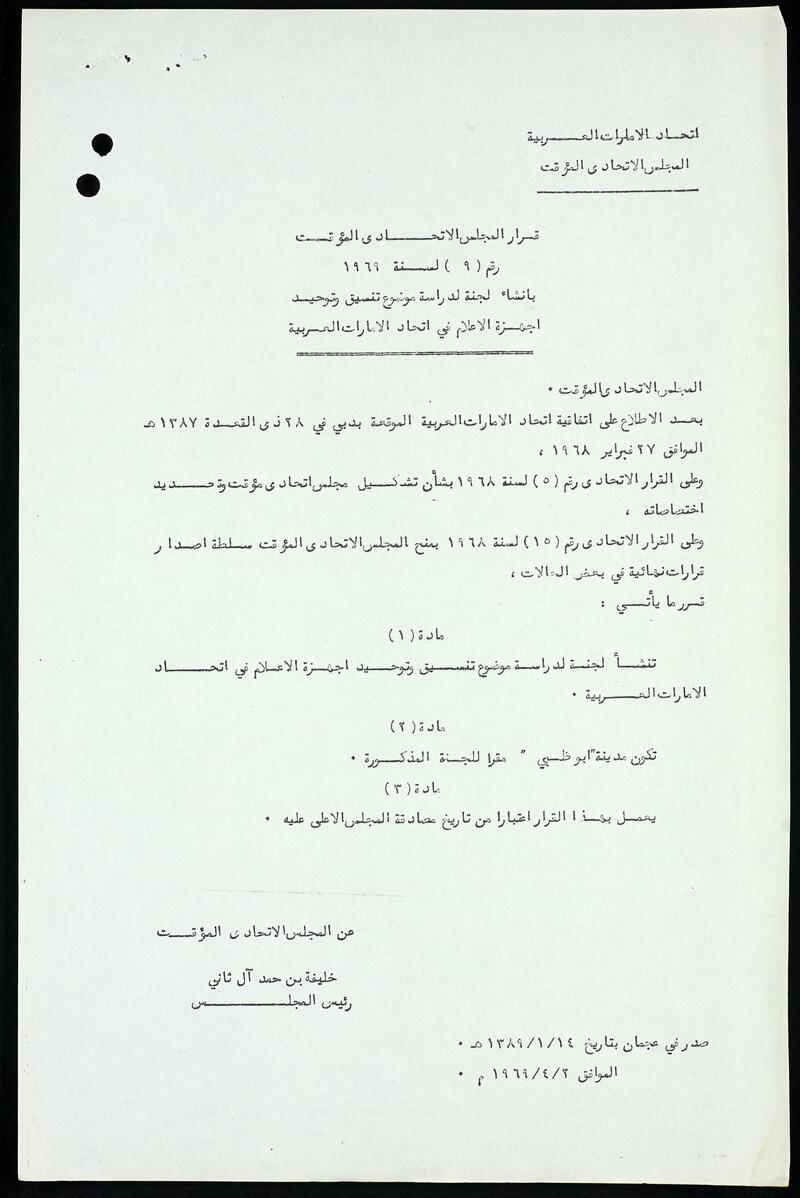 10-11 June 1969
Sheikh Zayed Bin Sultan Al Nahyan, Ruler of Abu Dhabi, in London
and on another occasion
21 July 1969
Sheikh Rashid Bin Saeed Al Maktoum, Ruler of Dubai, in London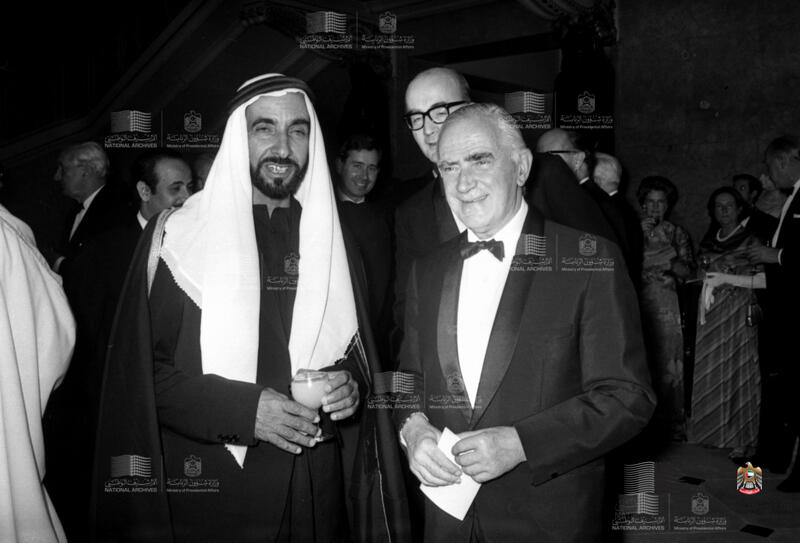 22-23 June 1969
Meeting of the Provisional Council of the Union of Arab Emirates in Qatar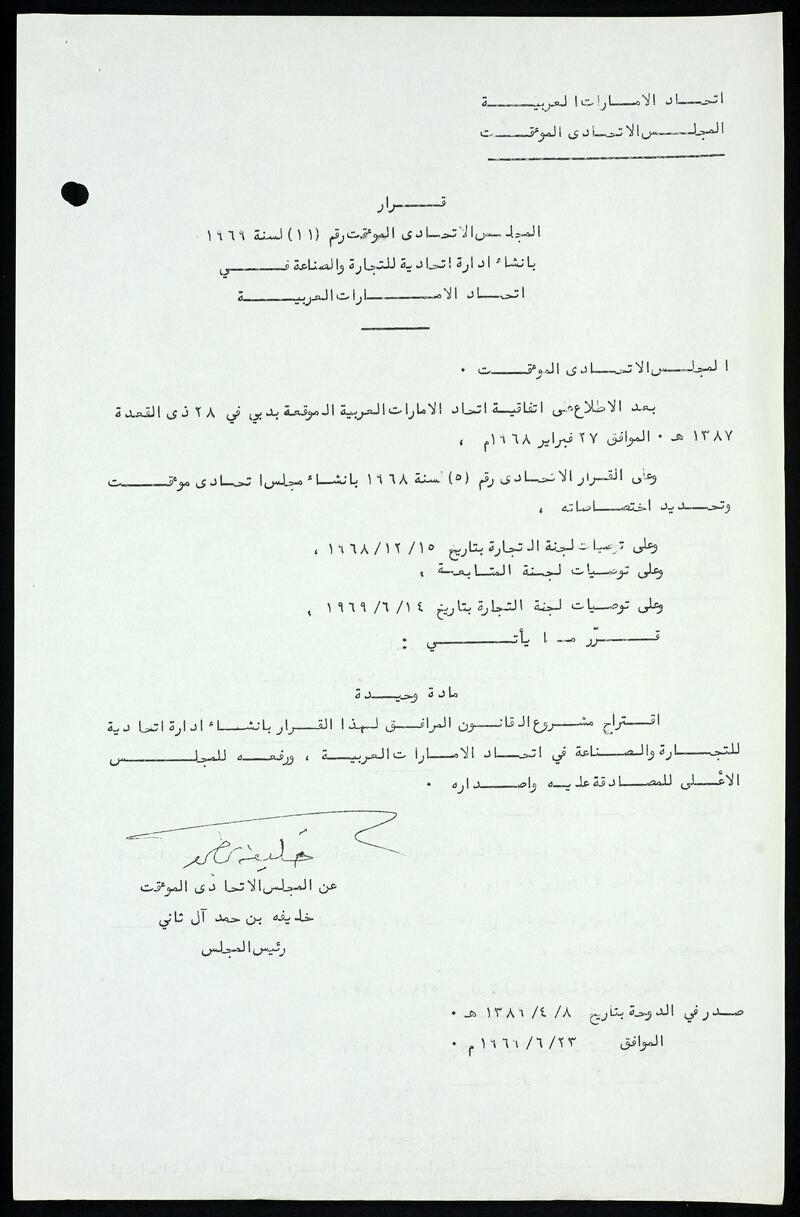 20 October 1969
Transcription of Sheikh Zayed Bin Sultan Al Nahyan's interview with Al Ittihad Newspaper in Abu Dhabi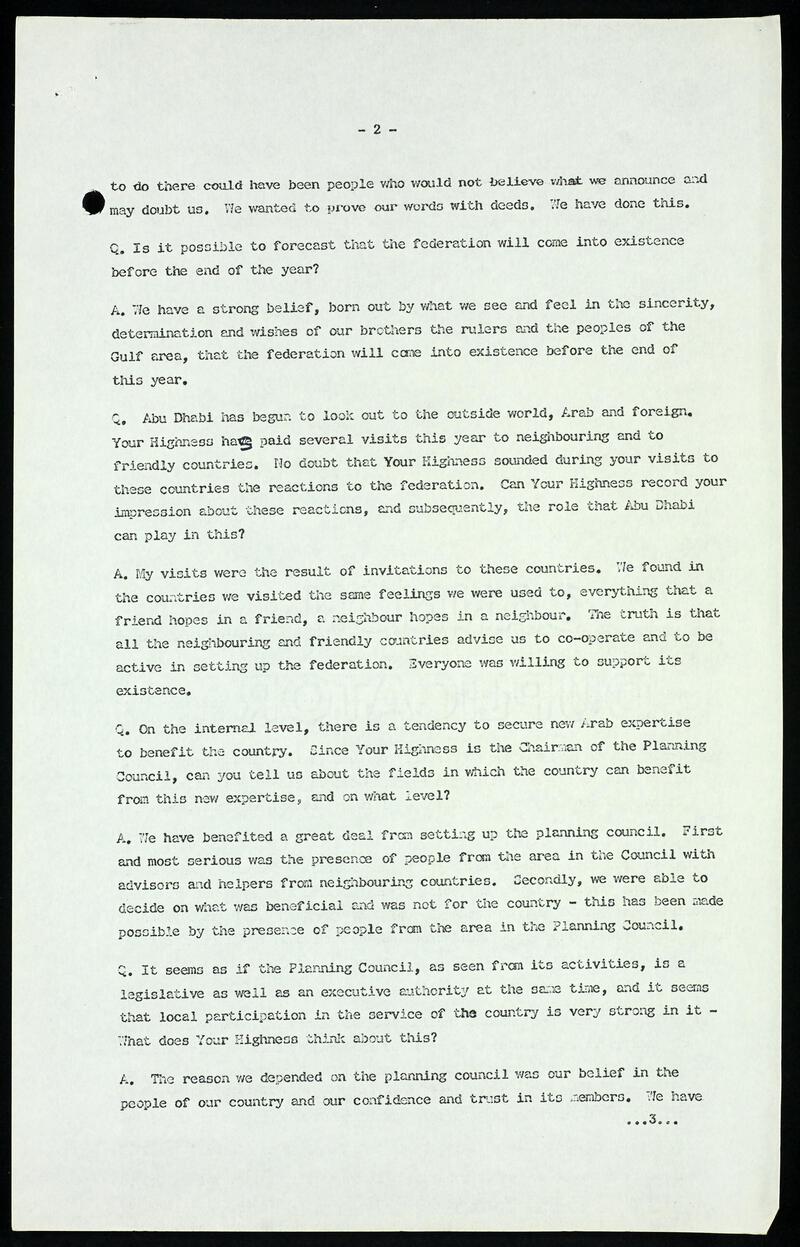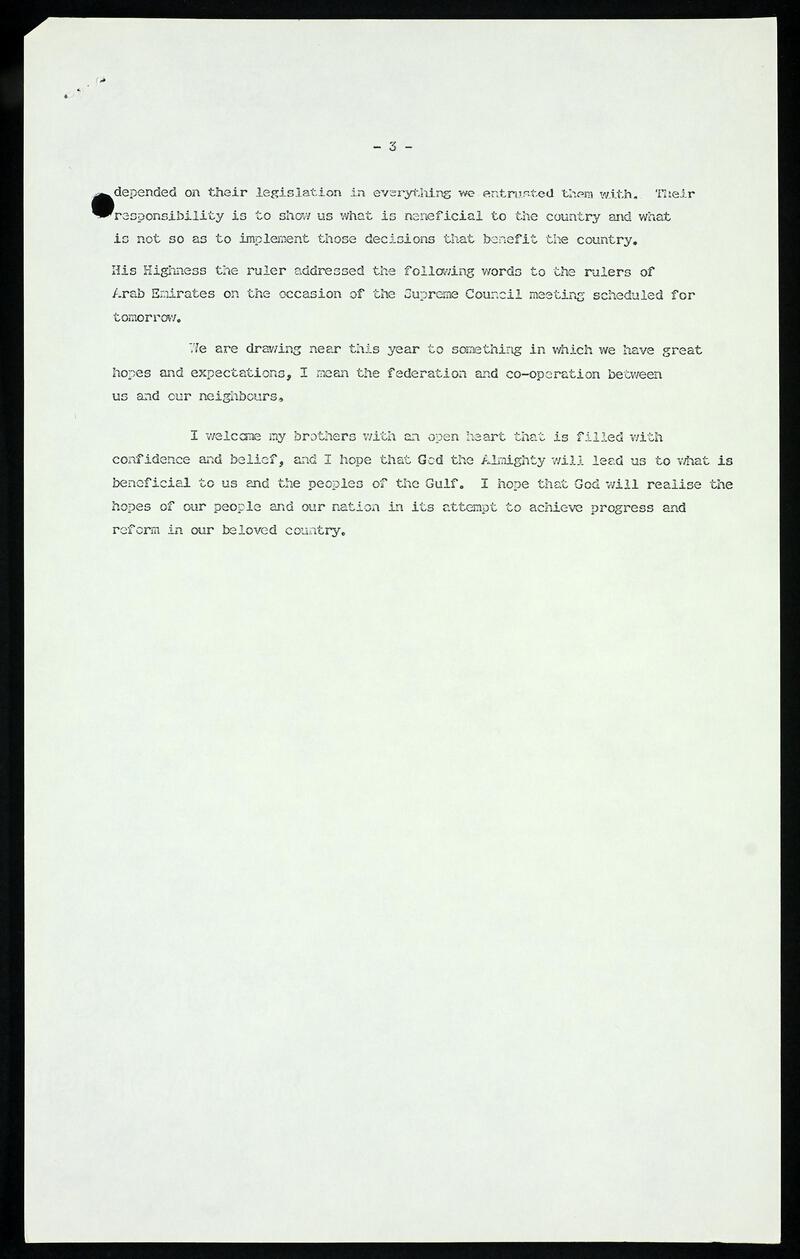 21-25 October 1969
The Fourth Session of the Supreme Council of the Federation of Arab Emirates held in Abu Dhabi
1 March 1971
Statement by Sir Alec Douglas-Home, British Secretary of State for Foreign and Commonwealth Affairs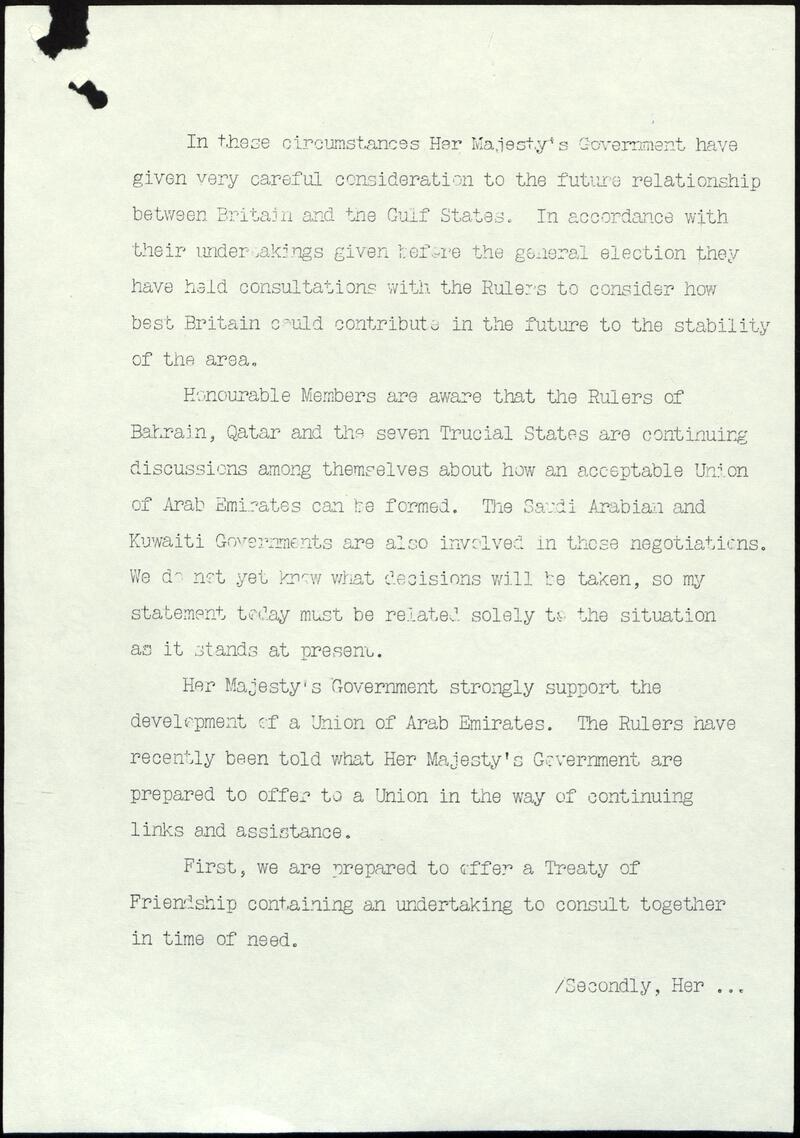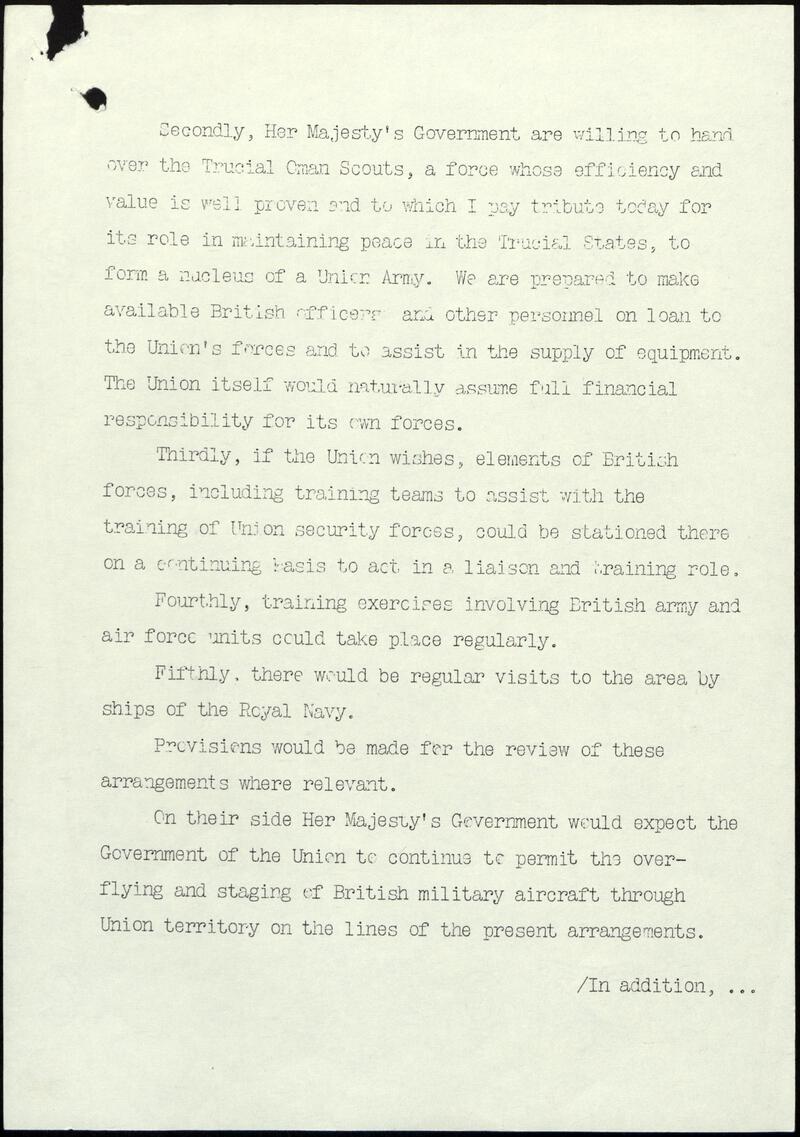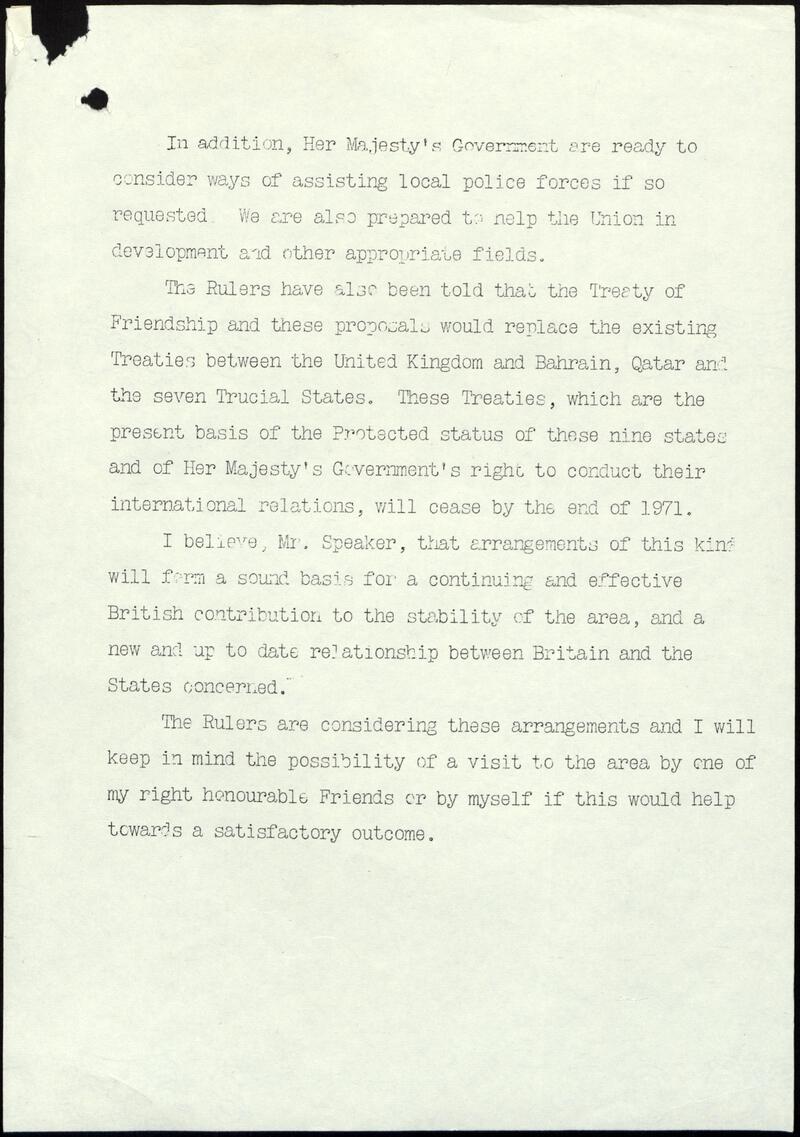 1971
Recommendations of the Committee with respect to the UAE Flag, Emblem and National Anthem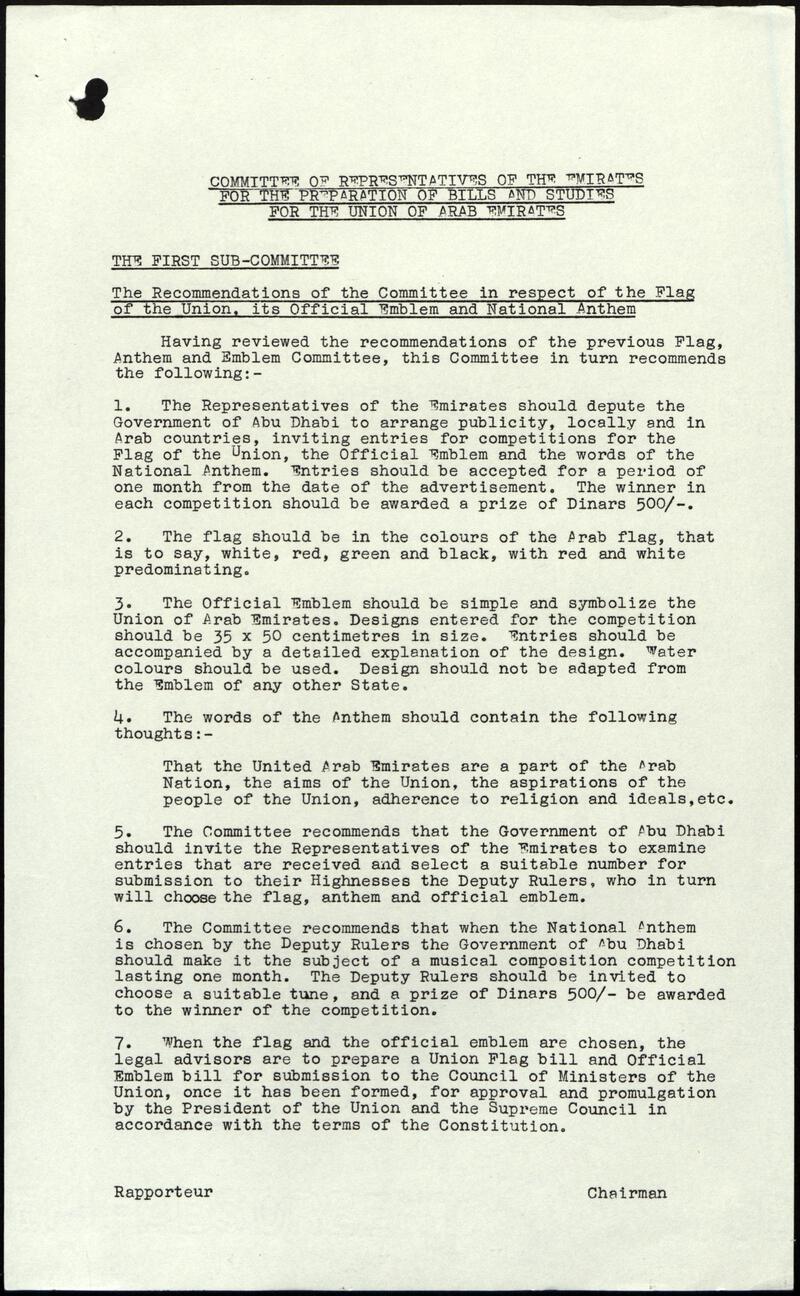 11-19 July 1971
The Rulers of the Emirates meet in Jumeirah, Dubai at Al Diyafah Palace to discuss the Union